Residential Omaxe New Chandigarh plot land for sale prices and details
Omaxe New Chandigarh is one of the best township coming in approx. 1500 acres with best facility . As 70% of possession are already delivered to buyers and the are very happily residing . Omaxe new Chandigarh is mi of plot land flats , 5 star hotels, commercial sco booths etc.
Residential plot sold in Omaxe New Chandigarh starts at price of 13500/ sq yard on 2011/2012 and as on date resale prices of omaxe plots in New Chandigarh reached to 60 to 80 thousand per sq yard on 2023 depend upon location.
There is mix sizes and prices of Omaxe residential plot land in New Chandigarh detailed below january 2023
1-Size 115 sq yard approx 75 lac
2-150 sq yard approx 95 lac
3-300 sq yard approx-1,80 cr
4-400 sq yard approx-2,40 cr
5-500 sq yard approx 3 to 3,50 cr
6-100 sq yard approx 6 to 7 cr
Note-Above prices vary as depend upon time location you choose to buy
Schools Facilities such as Bhavan vidalya , Doon public school, strabery scool etc, office-cum-shopping complex and space for recreational activities like amusement parks enthrall the township. The township is also home to one of Punjab's tallest commercial hubs, Omaxe India Trade Tower, International trade tower. Infrastructure, including educational institutions, healthcare, hospitality, landscaped gardens, children's park, jogging track, underground drainage, medical facility like homeo baba cancer research hospital, Pgi is Jus 7 to 9 km on 200 ft road from this omaxe complex, and club with ultra-modern facilities, add to the advantage of Omaxe New Chandigarh.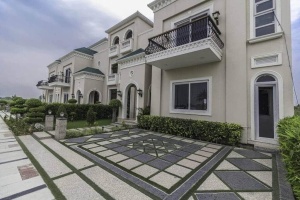 Lush green view of Shivaliks hills offer a rejuvenating view, and with the lush botanical garden make the environs healthy and pollution free environment.
Omaxe New Chandigarh, located in the vicinity of Chandigarh, is set to emerge as the next real estate destination. The First Eco-Town of Punjab, the city is well connected to Chandigarh and could provide more space to new development with better planning. Possession has already been offered for Omaxe New Chandigarh Phase I plots and Phase II , and Phase three plots also .
This ultra luxury living given edge by 5 star ultra luxury group housing called omaxe the lake flats for which posession are started for first phase in omaxe victoria .As on date people prefer this northern New Chandigarh area due to very near connectivity too fresh air and shivalik hills .
Approx prices in Omaxe plots New Chandigarh as on June 2023 is 60,000 to 80,000 per sq yard depend upon size phase and location .
for more details call 9915100085 9988187776 [email protected]