Omaxe The lake Mullanpur New Chandigarh Mullanpur 3bhk,4bhk, 5 bhk Flats For Sale Price-Floor plan-Location and best deals.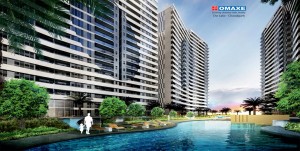 Omaxe The lake New Chandigarh Mullanpur 3, 4, 5 bhk residential housing in sector 6 are the most luxurious high rise flats/apartments in the vicinity of Chandigarh. Omaxe the lake Mullanpur on Madhya marg extn is not to miss flats in New Chandigarh If you are looking for flats in Chandigarh,Panchkula, Mohali, Zirakpur or Punjab,Please give a second thought to The Lake apartments in New Chandigarh Mullanpur.
Water, as we feel, tending to sooth effect to the body, soul and mind and having a water body right at your doorstep and the terraces reaching out to the skies is a dream only for the few. Lush green unrestricted view of shivalik hills (Kasauli) put green concept to project Omaxe the lake in omaxe new Chandigarh.
From the leaf out of life's book and appreciating the infinite peace, and a disposition free from stress of moving water, Omaxe brings forth The Lake at New Chandigarh.
As mentioned above, The Lake is poised to have unseen designed to offer you better lifestyle which would be having no parallel and unmatched features Located on the Madhya Marg, these apartments would have a product mix of 2,3 and 4 Bedroom residences.
Omaxe The Lake apartments best amenities which have been never heard before of in the region, the Lake is all set to convert the way people live. With a Streams tend to through level land water body running across the length of the project Omaxe
A tree lined beautiful and impressive entry to welcome you to Omaxe The Lake, dedicated Basement Parking,a great many Swimming Pools and Family Jacuzzis, abundant ponds and gardens based on different themes within the surrounding, a Lotus shaped Club which in itself would be an architectural unmatched stone, 5 Swimming Pools, a fully equipped Water Park, Sand Dunes and Floating Decks are few of the things which would craft The Lake into a masterpiece. either you are end user you will get very good return on your investment at possession. there is very good rental scope for omaxe the lake flats in long run.
Omaxe- the lake apartments A true paradise on earth, the lake is a project by omaxe, new chandigarh. This is the dream home for which you have been longing. It is surrounded by water bodies, Omaxe The lake side has 2bhk, 3bhk, 4bhk, 5 BHK flats & apartments. The sizes of omaxe the lake flats may vary from Mystic 1bhk 950sq ft,2bhk- 1260sft, Victoria lake 2, 3 bhk-1530sft and 1580 sqft, Caspean lake 2bhk, 3bhk-1820sqft and 1880 sqft, Emerald 3bhk+servant Emerald 4 bhk 3200sqft 3bhk, 3800sqft ,4000, Isabella 4bhk 4400 and 4840 sq.feet 4bhk .

As we all can feel that water body has a soothing effect on body and soul. This project is a dream come true for many. Located on a 200 feet wide road in new Chandigarh, it is just 8 minutes drive from PGI.
Apartments in Mullnpur New Chandigarh Omaxe the Lake flats will be the land mark to this area as company omaxe is planning to sell it at 10,000/ sq ft near to possession with new expansions. These are not the words just visit the site of the omaxe the lake flats you will feel the difference yourself.
Now a days people prefer such luxurious apartments other than independent houses or plots due to safety reason, social life , easy to maintain , less chances of theft etc. Omaxe the lake flats provide you high end luxury living with scenic beauty of shivalik hills kasauli , situated at the foot hills. In today s life style many builders promises you thousand of amenities and facilities but could not able to deliver and ultimately no appreciation in Investments neither their dream come true to avail it, but in Omaxe new chandigarh the lake flats 50% work is completed and already delivered those products will make you feel well what we are telling.
After having the site visit of this are Omaxe New Chandigarh, we will not left with second thought this we can assure you . As on date the towers took shape and you can imagine your house , light, air ventilation even one tower do not put sun shadow on second tower . High difference in construction of Omaxe the lake flats give you full light and air cross ventilation. As on date few inventory is left in Omaxe The lake Flats mullanpur, New Chandigarh and its not any selling tactics you can try with cheque of booking amount. I really want to say as on date no builderis able to provide the facilities which they promised but in these flats you will get 100% appreciation in 4-6 years, plus you will love to live if you are end user.

Omaxe the lake flats possession will be started from 2020 end or by 2021 for the first phase of this group housing , but due to Covid 19 / Corona Pandemic things have little changed and could take 1 year more for posession of these flats . Due to this very bad phase of corona people are putting more queries about this omaxe the lake to make them safe and accountable or count able for any future problems . Omaxe is planning to start possession in Omaxe the lake flats in its first phase to , omaxe the mystic tower, omaxe the lake victoria towwr, omaxe the lake caspean tower, and some towers of omaxe the lake emerald . Most of the work is done under these above towers rest finishing work is going on.

Posession started in Omae the lake lake flats Mullanpur
Note-Omae The lake apartments mullanpur increased prices of lake facing units to 6690/ sqft. And 7290/ Sq ft on 2022 we have some best deals in Omae the lake at very competitive prices.

Again Covid Pandemic 2021 hit the omaxe the lake flats posession and could take another 2 years today senerio of May 2021.
OMAXE AGAIN COMES WITH PLAN OF PAYMENT PAY 40% JUST REST ON POSESSION WHICH CLEARED MOSTLY ALL STOCK OF THE OMAXE THE LAKE WITH COMPANY . THIS CONFIDENCE OF COMPANY CAN CLEARLY SHOW THE PRODUCT THEY ARE MAKING . PRICES OF THIS PLAN GONE TO 6690 AND 7290 PER SQ FT on March 2023.
CONSTRUCTION UPDATE OF OMAXE The lake Flats video-Construction Update on 02-september-2020
Omaxe The Lake flats The Near by Land Mark Includes
Proposed Metro Station | Medicity | India Trade Tower | Tata Cancer Hospital | Upcocming HOLIDAY INN 5 star hotel| International Trade Tower | 50 acres of Global Business Park | Upcoming Sports Complex | Upcoming PCA Stadium | Part of well developed Township | 8 Minutes from PGI | Proposed Education Hub | Approach from Madhya Marg and Dakshin Marg
Some specifications of the project OmaxeThe Lake Apartments in mullanpur-New Chandigarh are
Cycle Track | Commercial | Club House | Jogging Track | Jacuzzi/Family Pool | Kids Pool | Swimming Pool | Water Park | Water Bodies – Reflection Pond, Lotus Pond, Lily Pond | Yoga/Meditation Lawn | Amphi Theatre | Tennis Court, Badminton Court, Cricket Net, Skating Rink, Basketball Court | Senior Citizen Club | Outdoor Gym | Sun Deck | Theme Pavilion | Sand Dunes | Kids Play Zone | Gardens – Herbal, Eden, Flower
Located on a 200 feet wide Madhya Marg, next door to 3 International Styled Office Towers, a 5 Star Hotel Holiday Inn and a stone's throw from the upcoming Metro Station, Omaxe The Lake is all set to offer variety of apartment options to suit your needs. Ranging between 1285 Sq Feet to a palatial 9400 Sq Feet of area, these apartments come with state of the art amenities.
BRIEF VIDEO OMAXE THE LAKE ISABELLA FLATS IN NEW CHANDIGRAH
https://www.youtu.be/0BEeepvX14Y
Please contact further: +91-9915100085, 9988187776 or Email [email protected]


Payment Plans

Omaxe The lake tower payment plans

There are different comfortable payment plans as from the day booking started but as per today 2020 different payment plans mentioned

Payment Plans as in 2020

1a. Omaxe the lake Lump Sum Payment Plan- 7% rebate on Basic Sale Price (BSP)
(Applicable for Mystic-A, B, C, Victoria-A , B, C, Caspean-A, B, D, E, F, Emerald-A, B, C & Isabella-A Towers)
Initial Part Booking Amount
Rs. 3,00,000/-
Part Booking Amount (Within 30 days of Payment of Initial Part Booking Amount)
10% of Total Cost# less Initial Part Booking Amount received
Within 60 days of Booking along with Agreement**
10% of Total Cost#
Within 90 days of Booking
75% of Total Cost#
On intimation for Possession
5% of Total Cost# + IFMS + IFCS + Other Cost (if any)

1b. Lump Sum Payment Plan- 11% rebate on Basic Sale Price (BSP) (Applicable for Emerald-D Tower)
Initial Part Booking Amount
Rs. 3,00,000/-
Part Booking Amount (Within 30 days of Payment of Initial Part Booking Amount)
10% of Total Cost# less Initial Part Booking Amount received
Within 60 days of Booking along with Agreement**
10% of Total Cost#
Within 90 days of Booking
75% of Total Cost#
On intimation for Possession
5% of Total Cost# + IFMS + IFCS + Other Cost (if any)

2a. Omaxe the lake Combo-I Payment Plan-3% rebate on Basic Sale Price (BSP)
(Applicable for Mystic-A,B,C, Victoria-A,B,C, Caspean-A,B,D,E,F, Emerald-A,B,C & Isabella-A Towers)
Initial Part Booking Amount
Rs. 3,00,000/-
Part Booking Amount (Within 30 days of Payment of Initial Part Booking Amount)
10% of Total Cost# less Initial Part Booking Amount received
Within 45 days of Booking along with Agreement**
40% of Total Cost#
Within 90 days of booking
5% of Total Cost#
Within 135 days of booking
5% of Total Cost#
Within 180 days of booking
5% of Total Cost#
Within 225 days of booking
5% of Total Cost#
Within 270 days of booking
5% of Total Cost#
Within 315 days of booking
5% of Total Cost#
Within 360 days of booking
5% of Total Cost#
Within 405 days of booking
2.5% of Total Cost#
Within 450 days of booking
2.5% of Total Cost#
Within 495 days of booking
2.5% of Total Cost#
Within 540 days of booking
2.5% of Total Cost#
On intimation for possession
5% of Total Cost# + IFMS + IFCS + Other cost (if any)

2b. Combo-I Payment Plan-5% rebate on Basic Sale Price (BSP) (Applicable for Emerald-D Tower)
Initial Part Booking Amount
Rs. 3,00,000/-
Part Booking Amount (Within 30 days of Payment of Initial Part Booking Amount)
10% of Total Cost# less Initial Part Booking Amount received
Within 45 days of Booking along with Agreement**
40% of Total Cost#
On Start of Construction/90 days of booking. Whichever is later.
5% of Total Cost#
On casting of Ground Floor Roof Slab/135 days of booking. Whichever is later.
5% of Total Cost#
On casting of 3rd Floor Roof Slab/180 days of booking. Whichever is later.
5% of Total Cost#
On casting of 6th Floor Roof Slab/225 days of booking. Whichever is later.
5% of Total Cost#
On casting of 9th Floor Roof Slab/270 days of booking. Whichever is later.
5% of Total Cost#
On casting of 12th Floor Roof Slab/315 days of booking. Whichever is later.
5% of Total Cost#
On casting of 15th Floor Roof Slab/360 days of booking. Whichever is later.
5% of Total Cost#
On casting of 17th Floor Roof Slab/405 days of booking. Whichever is later.
2.5% of Total Cost#
On casting of Top Floor Roof Slab/450 days of booking. Whichever is later.
2.5% of Total Cost#
On Completion of Internal Plaster/495 days of booking. Whichever is later.
2.5% of Total Cost#
On Completion of External Plaster/540 days of booking. Whichever is later.
2.5% of Total Cost#
On intimation for possession
5% of Total Cost# + IFMS + IFCS + Other cost (if any)

Omaxe The Lake in New chandigarh give you the best comfort on Prices as per their confidence . We have all best payment plans as per your need.

Payment Plans like
10 % on booking rest on possession

Layout Plans

Omaxe The Lake Apartments New Chandigarh Mullanpur- Size And Accommodation Table

| Size | Area |
| --- | --- |
| 1 Bhk | 950 Sqft |
| 2 Bhk | 1285 Sqft |
| 3 Bhk | 1530/1580 Sqft |
| 3 Bhk+Store | 1820/1850/1885 & 1920 Sqft |
| 3 Bhk+servant Room/4 Bhk | 2300 Sqft |
| 4 Bhk+Servant Room | 2760 Sqft |
| 4 Bhk+Servant+Store+Family Lounge | 4850 Sqft |
| Penthouses | 2600/3150/3700/3800/4450/5300 & 9400 Sqft |

Omaxe The lake Flats Floor Plan Caspean
Saleable Area
Unit-1 and Unit-2: 1885 Sq. Ft.
Unit-3 and Unit-4: 1885 Sq. Ft.

Omaxe The lake caspean floor plan

Omaxe The lake Flats Floor Plan Emerald
Saleable Area
Unit-1 and Unit-2: 2760 Sq. Ft.
Unit-3 and Unit-4: 2300 Sq. Ft.

Emareld omaxe lake floor plan

Omaxe The lake Flats Floor Plan Isabella
Saleable Area
Unit: 4850 Sq. Ft.

Lake omaxe isabella floor layout

Omaxe The lake Flats Floor Plan Mystic
Saleable Area
Unit: 1285 Sq. Ft.

omaxe the lake mystic floor layout

Omaxe The lake Flats Floor Plan Victoria
Saleable Area
Unit-1 and Unit-2: 1580 Sq. Ft.
Unit-3 and Unit-4: 1530 Sq. Ft.

Omaxe lake Victoria layout

Specifications

Omaxe The lake Flats Specification

Specifications – The Lake Omaxe New Chandigarh
Structure
Earthquake resistant RCC frame structure
External Finish
Textured Paint of exterior grade and Glass on specific sections
Living/Dining Room/Family Room
Flooring
Premium/ Italian Marble Vitrified Tiles
Walls
Plastic Emulsion Paint
Ceiling
Plastic Emulsion & POP with cove
Bedrooms
Wardrobe
Wardrobe in Master Bedroom
Flooring
Laminated wooden flooring in Master Bedroom & Premium / Italian Marble Vitrified Tiles in other Bedrooms
Wall Finishes
Plastic Emulsion Paint
Ceiling
Plastic Emulsion Paint , POP with Cove in Master Bedroom Only
Toilets
Flooring
Premium Anti Skid Vitrified Tiles
Wall/DADO
Complete Wall – Premium Vitrified Tiles
Ceiling
Plastic Emulsion
Fittings
Premium Sanitary fixtures of Duravit/Roca/Jaquar or equivalent, Mirror, Other CP Fittings of Grohe/Jaquar or equivalent including Showers
Kitchen
Cabinets
Premium / Italian Modular Kitchen Cabinets of Appropriate Finish
Flooring
Anti Skid Vitrified Tiles
Dado
Premium Vitrified Tiles upto 2ft above counter
Wall Finishes
Vitrified Tiles / Plastic Emulsion Paint + Commercial Tile behind Cabinet for protection
Ceiling
Plastic Emulsion Paint
Counter
Pre Polish Premium Granite
LIFTS
One Service Lift and two regular Lifts to be provided in each tower for access to all the floors of premium (Known Brand) quality.
Staircases
Risers & treads
Granite Stone
Wall Finishes
Plastic Emulsion Paint
Ceiling
Plasitic Emulsion Paint / OBD
Handrail
MS Railing
Balcony
Flooring
Anti Skid Vitrified Tiles
Wall Finishes
Water proofing external paint
Ceiling
Water proofing external paint
Handrail
SS Railing with Glass
Door & Windows
Doors
Flush Door Painted/Polished
Windows/Ventilators
Seasoned Hardwood/ Aluminium/ UPVC Sections
Entrance Lobby
Flooring would be of appropriate Mix of Itialian Marble/Granite , walls and ceiling would be Plasitic emulsion paint and use of other products for décor as per architect views.
Electrical Fittings
All electrical wirings in concealed conduits, provision adequate light and power points. Telephone and TV outlets in Drawing, Dinning and all Bedrooms, Moulded Modular Plastic switches & protective MCB's. Eelctrical Points for Kitchen Chimney, Hob.
Power Back Up
Generator to be provided for Power back up as per the size of the flat and for 100% backup of Emergency & safety Facilities, Lifts and Common Areas
Plumbing
All internal plumbing in GI/CPVC/Composite. Underground Water Tanks with Pump house and tube wells for uninterrupted Supply of Water.
Club House & Sports Facilities
Clubhouse with Swimming Pool, well equiped Gyms, Resturantants, Utility Shops, Multi purpose Hall, Indoor and outdoor sports facilities like Pool and Billiards Room, Table Tennis Room, Basket Ball court, Tennis Courts, Jogging and walking Tracks etc.
Security and Fire Protection
Video Surveillance system, Perimeter security and Entrance Lobby security with CCTV cameras plus other appropriate hi-tech Security , Fire Prevention Suppression, Detection & Alarm System as per fire norms.
Other Specifications applicable for Penthouses Only
Internal Stairs
Marble / Granite Stone
Applicable for Isabella and Emerald Tower
Railing & Handrail for Internal Stairs
Glass railing with SS
Internal Lift
Personalised Non Machine Room Lift with capacity of 3 person
Applicable for Isabella Tower
Terrace Rights (Tentative Area)
Isabella Tower – 1290 sqft, Emerald Tower (Unit No. 1&2) – 1155 sqft, Emerald Tower (Unit No. 3&4) – 785 sqft, Caspean Tower – 1085 sqft, Victoria Tower – 880 sqft, Mystic Tower – 715 sqft
Customisation*
* Customisation in penthouses with respect to specification and floor plan possible subject to additional cost and architect approval

Please contact further: +91-9915100085, 9988187776 or Email [email protected]

Features

OMAXE THE LAKE APARTMENT FEATURES

India's first water theme based project
All flats surrounding 1.5 km 12 acre man made Lake
World class humanly possible facilities inside the project
25 acres walled/gated community
Double heighted lobbies inside all towers like 5 star hotels have
opposite to 150-250 acre Medecity (Tata cancer research hospital,PGI extension Medecity,alchemist,Fortis more application are still awaited
Diagonally opposite to 1700 acre Educity (Mahindra univ,Infosis training centre,Amity univ,more application in process)
100 metres to upcoming metro station
Next to High Rise commercial building India Trade Tower and 5 star hotel Holiday Inn
Separate reception for guests
Meeting rooms for unwanted and fast meeting guests
Intercom Facility inside all apartments
Metro Line coming up near by
Project approved by GMADA

OMAXE THE LAKE APPARTMENT IN CHANDIGARH LUXURIOUS AMENITIES AND FACILITIES INSIDE THE PROJECT

3500 car parking slots in 2 basement car parking
No traffic movement inside the project
Exclusive one whole Golf putting green
In house Water Park
Outdoor Gym
Cricket practice net
Badminton court
Basketball court
Skating rink
Separate cycling zone for residents
Nature friendly walking tracks and jogging tracks
separate Senior citizen parks-3
Sand dunes for playing inside the project
theme pavilion, deck pavilion and pavilion green-9
Floating Meditation-3
floating yoga decks inside the lake
Sun deck, floating decks inside the lake
2 amphitheaters inside the project
All weather swimming pool
80 feet long Olympic size swimming pools-2
Family pools-3
Kid's pools-2
Personal Jacuzzi's floating inside the lake-3
Separate commercial zone for residents
Lotus Club house spread in 60,000 square feet with all facilities like Gymnasium, restaurant, Lounge and cafeteria, All weather pool, Spa and fitness zone, toddler zone

Please contact further: +91-9915100085, 9988187776 or Email [email protected]

Site Layout

CHANDIGARH OMAXE THE LAKE APARTMENTS SITE LAYOUT

The lake omaxe site layout mullanpur new chandigarh

Omaxe the lake flats

Location

NEW CHANDIGARH OMAXE THE LAKE FLATS LOCATION

Omaxe The lake Location new Chandigarh Map

Omaxe the lake view flats

Photo Gallery

Construction update on September 2023

Omaxe the lake

Omaxe the lake Isabella

Victoria omaxe lake tower[/caption]

Omaxe lake isabella tower

Omaxe lake chandigarh mystic tower

Omaxe chandigarh club house

Omaxe Chandigarh community centre

omaxe Chandigarh club area

Omaxe chandigarh phase one guest rooms

FOR OMAXE THE LAKE TILL DATE CONSTRUCTION UPDATE PHOTOS PLEASE FEEL FREE

Omaxe the lake construction updates and development on august-2019

Omaxe the lake construction updates

omaxe the lake construction development update 2019 august

omaxe the lake construction development update 2019 august

omaxe the lake construction development update 2019 august

omaxe the lake construction development update 2019 august

omaxe the lake construction development update 2019 august

omaxe the lake construction development update 2019 august

omaxe the lake construction development update 2019 august

omaxe the lake construction development update 2019 august

omaxe the lake construction development update 2019 august

E-Brochure

OMAXE THE LAKE FLATS BROCHURE