Overview
OMAXE INDIA TRADE TOWER OFFICE RETAIL SPACE IN NEW CHANDIGARH
Omaxe India trade tower
Unbelievable, one of Punjab's tallest commercial structures is actually a part of Omaxe new Chandigarh project. Spread over 2.45 lakh square feet, this would be the new address for all modern offices and retails.
This is the only commercial project that guarantees a footfall since it has villas, floors and residential plots and it is diagonally opposite to 150-300 acre medecity and 1700 acre educity.
Fully air conditioned, G+19 floors, Omaxe India Trade Tower is proposed to have 42,000 sq. feet area for shopping and retail. 17 floors covering an area of1,85,000 sq. feet is designed as commercial space.
With all this, a floor of are 10,000 sq.ft is entirely covered with terrace podium, health club and food court.
Omaxe new Chandigarh would be linked with upcoming metro line and a bus terminal. This makes it a very attractive destination for the coming years.
This building is tricity tallest and first LED with view of the enchanting Shivalik ranges and the lush green lawns will truly be a candy for the eyes.
This would be a complete township with school, hospital, amusement park, garden, offices, commercial spaces, club with ultra modern facilities and also a jogging park.
Omaxe New Chandigarh is set to bring a cosmopolitan lifestyle to the skyline of the region with homes and offices equipped with all the modern facilities. Set amidst lush greens, Omaxe New Chandigarh is a perfect place for a harmonious mind, body and spirit.
Omaxe new Chandigarh will emerge as a desired destination because of its connectivity and the first eco town of Punjab.
It gives us immense pleasure to bring forth a true commercial masterpiece in the form of India Trade Tower at our Signature project Omaxe New Chandigarh.
With residential options like villas, Independent floors and residential plots, which guarantees a captive customer besides providing a walk-to-work culture, this fully centrally air conditioned G+19 floors India Trade Tower is extraordinarily designed. It will offer 42,000 sq ft area dedicated to shopping and retail. However, 17 floors embracing an area of 1,85, 000 sq ft, are designed as commercial space. Besides, a floor of an area 18,000 sq ft is entirely covered with terrace podium, health club, food court and water body etc. As on date March 2019 Omaxe ltd company office is working in operational in this tower and on ground floor Retail in Omaxe India trade tower many food counrt brand like subway, etc will be operational soon . very soon on second floor Delhi famous brand Play boy is planning and in Negotiation with the omaxe ltd .
Here is not the end of this commercial business hub omaxe plans one more star to this detestation with 8 multiplex cinema commercial showrooms ,maull ,retal adjoining to this tower named as Omaxe Beacon street.
One of the tallest commercial structures of Punjab, India Trade Tower in New Chandigarh, a part of Omaxe New Chandigarh, is a state-of-the-art office-cum-commercial complex. Spread over 2.45 lakh sq. feet, India Trade Tower is a modern commercial district with spaces for office and retail.

Why Office spaces in Omaxe india trade tower new Chandigarh mullanpur ?
A pollution-free site nestled near the Shivalik Hills with an easyaccess to the exceptional cultural, recreational and medical infrastructure of Chandigarh.
Extension of Madhya Marg with a driving time of approx.8 minutes and to be connected by Metro in the near future.
Lack of Proper Office spaces in and around Chandigarh.
Proximity to Baddi-Barotiwala and Nalagarh, a major Industrial Town and hub of major Pharmaceutical Giants.
Many MNC'S have set up their front end and back offices in Chandigarh but lack the infrastructural support. The India Trade Tower shall fill this void.
These offices come with a *12% per annum guaranteed Assured Returns* till *Offer of Possession+3 years.
JUST HAVE A WALK THROUGH OF OMAXE INDIA TRADE TOWER
Best Real Estate investment after Covid 19 or Corona Virus in OMAXE New Chandigarh is to Own a space in ready to move in OMAXE INDIA TRADE TOWER's FOOD COURT at New Chandigarh with 12% ASSURED RETURN + 9% LEASE GUARANTEE + BUY BACK OFFER. International food chains already functional.located on Madhya Marg extn and opposite Tata Memorial cancer hospital.
Investment starting at 15 lakhs only.

Prices of Omaxe India Trade tower as on February 2022 have good mobility. Even office spaces are also have good rentals and tolet option
Layout Plans
Specifications
SPECIFICATIONS:
EXTERNAL FACADE
Structural Glazing/ACP/Granite
STRUCTURE
RCC frame work with raft foundation, in filler brick walls 230 /115 thick, plastered on both sides.
No plaster on ceiling.
LIFTS & ESCALATORS
Collective control, high speed elevators with glass on one face. Up & down escalators for ground to first and first to second floor.
FLOORING
No flooring in shops / office area
Common corridors / lift lobbies / Atrium to be finished with Granite stone/Vitrified tile/Combination of both in Shopping floors.
Common corridors / lift lobbies to be finished with Granite stone/vitrified tile/combination of both in office floors.
Toilets in Vitrified / antiskid ceramic tile.
Basement with trimix flooring and interlock pavers.
Service area with C.C flooring
EXTERNAL DEVELOPEMENT
Concrete roads / ramps with interlock pavers. Parking with grass pavers.
ELECTRICAL
One meter for one unit i.e. shop / office. Submains upto DB of each shop / office. (no electrical lighting / conduiting in offices / shop areas)
Allotted electrical load as per area to each shop / office.
Common corridors / lobbies / atrium / toilets / staircase with lights and 100% power backup.
Provision of power back up as per area to each shop / office till the entry point.
Dual metering system.
PHE
Vertical stacks in all shafts of UPVC for soil, waste, vent connection.
FIRE FIGHTING
Provision of sprinkler main headers till entry of shops / offices
Total fire fighting system as per N.B.C in common areas.
HVAC
Provision of allotted fixed tonnage to shops / offices.
Common areas to be provided with complete HVAC system.(ducting only in common areas)
Features
Upcoming Metro Line and Bus terminal in the vicinity
300 acres of health village near by
Up coming 5 star Hotels, Business Suits and service apartments
Sarangpur Industrial Area close at hand
Plenty of residential options
Approved by GMADA
Designed with up-to-the minute technology
And a floor entirely covered with terrace podium, gym, food court and water body etc.
Just 10 min drive from prime sectors of Chandigarh 9,10,11,15,17,etc
Beautifully designed Never seen before office space in and around Chandigarh
Club with central atrium with on 2nd floor and view of water fall, swimming pool, cafeteria, billiards room…
Near major establishment – High court,sector-17,P.G.I, Punjab Univ, botanical garden, Secretariat ,ISBT
Opposite 150 acre medecity, diagonally opposite to 1700 acre educity in new Chandigarh Mullanpur
International trade tower is part of 50 acre planned commercial hub of new age at Omaxe New Chandigarh
Green building
Proposed metro and Bus terminus on stone throw distance.
Planned architect will provide proper sunlight visibility for every corner of office spaces
High speed glass lifts with wide corridors
Par anomic view of city sky line.
Site Layout
Location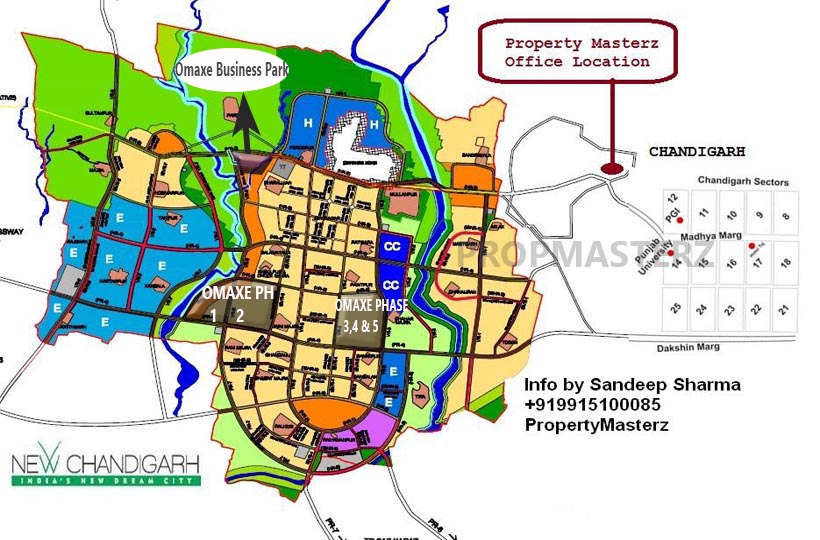 Photos