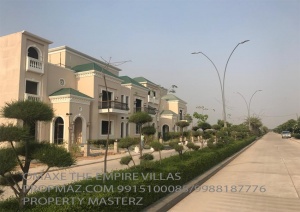 Omaxe 500 gaj, 1000 gaj 2 kanal plots for sale in New Chandigarh
These 2 kanal plots of omaxe in new chandigarh is One of the best investment/ and end user product. There are only few inventory with this type of category . Best Part of These plots is the vicinity location and distance from major areas of new Chandigarh.
Prices of these 2 kanal omaxe plots in Chandigarh starts from 32000/ gaj which is very competitive price as compared to Chandigarh that is approx 1,25,000 gaj . You can well imagine the future appreciation that is must to be 50,000 in/ sq yard in very few months in worst scenario.
As International cricket stadium in Mullanpur is about to working soon by 2021 and two 200 ft roads was also in process to join this area one from Airport ring road and other one is Delhi-Anandpur express way . This will be the major turning point to this area in coming future. Works of both these roads are in full swing and will be operational by 2021 .
There are Omaxe Empire villas also launched by omaxe in this 3rd phase cassia , which are already sold by company. These empire villas comes on 500 gaj plots and sample villa is alread read with personal swimming pool and amphitheater
Omaxe plots in mullanpur, New chandigarh is ready for possession and more than 1000 families is already residing here. As like Panchkula / mohali it will be other next level substitute as comparison to the price of Chandigarh .
Omaxe Plots in Mullanpur, New Chandigarh is designed under GMADA ( Greater Mohali area development authority ) like any other planned urban estate. Situated on 200 ft Sector connecting roads from Chandigarh at just 3 to 10 km, with minimum 40ft roads outside your house. Here company provided all high end club facility with swimming pool, tennis court, spa, open to sky gym, cricket practicing pitch, squash court room , etc are in operational condition.
Omaxe Plots in Mullanpur, New Chandigarh is now come up with well designed smart houses/ Kothies in Phase 1 and Phase 2 . Omaxe plots in Mullanpur, Phase 3 is nearest to Chandigarh , just 3 Km n 200 ft delhi- anandpur express way .
Prices of plots in omaxe Mullanpur, new chandigarh vary from 30,000/ sq yard to 35,000/ sq yard depend upon phase and location .
500 Sq yard and 1000 Sq yard plot in Omaxe phase 3 new chandigarh mullanpur on 7-august/2021 reached 45000/ Sq yard and very less availability for dale is there .
Prices of Omaxe phase 3 new chandigarh Kanal 500 gaj two Kanal 1000 gaj plots are increasing day by day . Demand of these plots are very much in market which leads the prices hike to 60 to 70 thousand per sq yard on September 2022. Unexpected increase in price is purely based on market demands of these plots omaxe cassia .
To get detailed layout plan for Omaxe Plts In Mullanpur , New Chandigarh please click here

Please contact further: +91-9915100085, 9988187776 or Email [email protected]