OMAXE EMPIRE VILLAS Phase3 Mullanpur 500, 650 Sq yard for Sale Prices and Details New Chandigarh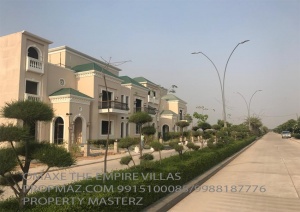 Omaxe The Empire villas in Mullanpur, New Chandigarh creating one more history in segment of high end quality villas in New Chandigarh . As we can see sample picture which is updated on 26 october 2017 to you which is under construction . Very soon Omaxe in planning to launch these villas by December. Omaxe The empire villas in Mullanpur is situated in phase 3 , which is counted as the prime pocket of Omaxe. After delivering the villas in Phase 1 and Phase 2 by the name of Omaxe mulberry villas now company planning to repeat success story in phase 3.

Now a days the villas in phase 1 and 2 -mulberry villas are not available in resale . Quality life style with all latest amenities it will be the land mark or you can say new star product of Omaxe . In this phase of omaxe Phase 3 in Mullanpur, New Chandigarh there is mix of different products like Omaxe independent plots, Omaxe cassia floors whre families are already living happy life with security , parks and all the major amenities .

Distance of the Omaxe The Empire villas in mullanpur, new Chandigarh is just 3 km on 200 ft wide Delhi -Anandpur express way which will be the main road in upcoming times to Punjab ( Ludhiana, Amritsar, Gurdaspur , etc ) and Himachal ( Una Nangal , Hamirpur , Kullu manali , etc ) . Just 1km from upcoming International cricket stadium ( 47 acres ) where first match will be played by 2020 , but due to covid it got delayed.

Construction of this international cricket stadium in mullanpur cricket stadium is under full swing . New Chandigarh is itself a planned township with all the major facilities like Medecity in 400 acres, Education city in 1700 acre for which the land is already acquired and work is in under process .

These kind of villas in Chandigarh, Mullanpur will take your breathe away once you see the construction and design . Omaxe The Empire villas comes to the nearest vicinity of Chandigarh itself with all the new and latest infrastructure .After making the sample Villas comany will start selling the product of different flexible payment plans yet to come .

Even the prices in Cassia omaxe phase 3 plots 300, 500, 1000 gaj is around 50,000 to 60,000 per s yard as on February 2022 . That plots are only available in resale as company have no stock of plots to sell
Omaxe the empire villas in Mullanpur, New chandigarh consist of high end luxury like- Personal swimming pool, Home theater , personal lift , etc . Sample of Omaxe the empire villa will be ready by 2019 and soon company will start the sale.

Due to immediate increase of Demand in omaxe phase 3 plots and houses after covid 2020 all th Omaxe Empire Villas are now sold and available in resale only February 2022

OMAXE THE EMPIRE VILLAS SIZES
These omaxe the empire Villas are launching on the size of 200/250/265/300 and 500 sq yard . Very soon near 2018 november company will provide all price details , omaxe the empire villas payment options . These Omaxe the empire villas constructed area will vary from above mentioned detailed. If you are planning for independent house in Omaxe Mullanpur New Chandigarh, then this is the right time take decision of you dream home from 200-500 sq yard sizes .
OMAXE THE EMPIRE VILLAS LAUNCHED 2 JANUARY 2020
Basic sale Price of omaxe the empire is 4,10 cr + additional cost ( Company is giving super saving schreme of Rs 15 lakh (3.95 cr)
If you buy semi finished villa then price would be 3.05 cr+additional cost less 10 lakh super saving ( 2.95 cr)
Floor Plans Omaxe the Empire villa
As we Property Masterz is authorized govt approved under RERA ( Real estate regulatory act ) Associates of Omaxe will give you best deal of omaxe the empire villas in mullanpur, new chandigarh and services on your door step . Please give us on chance to serve you .
Brief video Omaxe The Empire Villas In New Chandigarh Mullanpur
Please contact further: +91-9915100085, 9988187776
or Email [email protected]