OMAXE CHOWK COMMERCIAL RETAIL FOOD COURT IN CHANDNI CHOWK DELH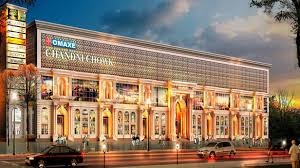 Omaxe Chowk Commercial retail, food court, shops in Chandni Chowk Delhi will be the new bench mark to this area and market of delhi. Omaxe heritage commercial in Delhi got all its RERA approval and launching on 1st october 2019 . As you people very well aware of market chandni chowk and its customers footfall in this area. Omaxe planning to bring it in muglai type construction which you can imagine in photographs .
Advantages to Invest in Omaxe Heritage commercial retail Food courts in Omaxe Chandni Chowk Delhi
1-Sellers Market-Chandni Chowk in Delhi, capital of India is fully packed area and shops for sale is not available if you want to buy and though the are not planned as well . So Buyin property now at this stage will definately helps to keep you upper hand in scene of sellin and leasing
2-Omaxe Heritage commercial in Delhi is planned commercial with all basic ameneties like parking, food joints, rest rooms etc.
3-Location is the the toppest edge as you all are very well aware of the chandni chowk and connected wall to metro station and bridge connectivity directly give it a high footfall advantage.
4-High Return values and rentals in Omaxe heritage commercial is there as survey of JLL shows it outskirts area which have no proper planning having prices of 2lakh to 7 lakh per sq ft approx .
5-Construction base is on old Mughali type concept structure to make you feel old heritage building in New shape . you can well imagine it little from photographs.
6-Construction of lantern shops in Omaxe Chowk commercial delhi will be around 1ft , could be used as mezzanine.
7-Construction of omaxe heritage started on sight and will be delivered by 2021 and year minimum lease gurntee is also there
8-On The roof top of omaxe heritage is giving you old touch of kite flying, teej celebration means enjoying without machines .
9-Biggest Food court of India is coming Omaxe Chowk commercial in delhi with seating capacity of 1600 seats
For best deals and more info plz call us at 9988187776 9915100085