Overview
OMAXE HOLIDAY INN PREMIUM SERVICED SUITES AND OFFICE SPACES NEW CHANDIGARH, MULLANPUR
OMAXE PREMIUM SERVICED SUITES IN NEW CHANDIGARH MULLANPUR LAUNCHED with the different sizes of 679 sqft, 691 sqft, 700 sqft, 1083 sqft . After the great success of serviced suites now Omaxe planned to launch it bigger version as the name suggested Omaxe Holiday Inn premium Serviced Suites.This is higly demanded product as company gives you Assured return of 12% till possession and after that as an owner you will get 60% of the total sharing in profit and 40% will goes to hotel . it is a type of life time income for any investors. Omaxe Holiday Inn Premium Serviced suites is transferable and proper registry is there on possession.These serviced suites are most demanding product of market as it is 5 star Holiday inn property in Mullanpur New Chandigarh , with locaqtion on 200 ft madhya marg extension road and diagonally opposite to 400-500 acre medecity which is under construction with tata cancer research hospital, alchemist , Chaitanya , etc. Here is not the end of this commercial business hub omaxe plans one more star to this detestation with 8 multiplex cinema commercial showrooms ,maull ,retal adjoining to this tower named as Omaxe Beacon street.
Why To Buy Omaxe Holiday Inn Premium serviced suites In New Chandigarh , mullanpur?
Get assured return till possession ( eg if you invest 70 lakh you will get 70,000/ per month till possession) it will take another 4-5 years minimum , so you got your 60% money back and unit will cost you for 28-30 lak at possession and there will be appreciation in property by that time . As i already said it is transferable you can trade it at any stage of time
The Best thisng of Omaxe holiday Inn serviced Premium suites in New chandigarh is that company is giving you option to quit by selling your unit to them.
If you dont want to sell it is very good options for life time revenue sharing after possession .
Buying Property with Property Masterz will able to guide you best unit, prompt services at you door step, Better prices , all your property hazels will be solved .
Omaxe Holiday inn chandigarh,mullanpur PREMIUM Serviced suits has started the construction of Serviced suits, Apartments and reached to 7th floor on sept 2018 in collaboration with 5-Star Hotel Holiday inn. There will be two towers with G +14, to be retained by the Hotel and another tower of G+22 for Service Apartments and Office Suites. Project is to be developed over 7 acres of land. All across the country the service apartments have been a success where there has been a medical facility in the vicinity. At New Chandigarh Master Plan there is 300 acres reserved for Medi-city just across the road to the site of theses service apartments where in 5 to 6 Hospitals will be coming up in next few years, to name a few Alchemist already has land in the area, PGI has been allotted land and TATA Cancer Memorial Hospital, still more are applying..
Omaxe holiday inn Mullanpur, New chandigarh got great response from the market and 70 % stock is sold . Small size of 480 sq ft is now out of stock from the company omaxe ltd and selling at market for premium. People who invested in this property will get life time returns with 12% assured return per annum till possession and after that client will get 60% out of total hotel profit rest 40% will be left with hotel for other expenses.
Omaxe holiday inn mullanpur, new chandigarh is now RERA approved project by govt and all terms and condition about which iam talking about will be in written and get registered in registrar office/ Tehsil . As this property of Omaxe holiday inn situated in New chandigarh 200ft madhya marg extn is the main route to manali, Himachal, Punjab etc , so pottential of customers will be very high.
International stadium in New chandigarh Mullanpur took shape and will be operationla by maximum 2020 , which give great edge to hotel industry in new Chandigarh and Omaxe hoilday inn mullanpur also . One more property by the name of Sukh villas is already operation , where they are charging minimum 35000/ nigtht which dont suits to every body pocket. this seven star property sukhvilla is about 8 kms from this Omaxe holiday inn mullanpur five star property so in future it will be good investments . As the construction work of holiday inn in Mullanpur, New Chandigarh is at full swing and if you want current construction updates you are free to call at any time .
Details of Omaxe Holiday Inn 5 STAR Serviced Apartments New Chandigarh
No. of Floors: G+22 High Rise Structure
Total No of Service Apartments: 200
Service Apartments from 9th to 22nd floor
Project Area: 7-Acres Land
Allotted Basic Price: Rs. 5950/- PSF
Area for 1Br+Pantry: 480-Sft
Area for 1Br+Living Room+ Kitchen: 720-Sft
Area for 1Br+ Living Room+ Kitchen +Dinning Area: 960-Sft
Area for 2Br+ Living Room+ Kitchen +Dinning Area: 1440-Sft
12% assured return with a guarantee of 5 years or till possession whichever is later.
Omaxe-serviced-suites-apartments-office-spaces-holiday-inn-chandigarh
Layout Plans
Please download e brochurer for details layout omaxe holiday inn Serviced apartment and office spaces
Specifications

Please download e brochure for details specification omaxe holiday inn apartment

Features
Why to invest or buy omaxe holiday inn Office space/serviced suites ?
Investment Prospects: 12% PA Assured Return till 5-Yr and thereafter Lease Rentals
Connected with 200 ft. wide highway and adjacent to Metro Station
Service Apartments will be fully furnished
The only 5 star Hotel in the city of Omaxe TownshipNew Chandigarh
Plush well planned Fully Furnished Interiors
Amenities like Swimming pool, Club, Gym, Spa, Restaurant
Fully furnished with furniture and white goods like TV, Microwave Refrigerator Etc
Also have an access to the facilities of the Hotel
Open/ Stilt Parking
Omaxe Global business park mullanpur
Next to India trade tower
4.5 kms to chandigarh
7 kms to PGI and Panjab University
100 metres to Mullanpur metro station upcoming
Opposite Medicity (Tata memorial, Alchemist,Pgi Opd extension)
Major clientele for Omaxe Serviced Apartments/Suites in Holiday inn New Chandigarh are
Medicity in 300 acres would house 5-6 hospitals
Film City and Edu City in 1700 Acres would have Universities and Institutes
Commercial Hub in 400-Acre would have office Tower and other Commercial Buildings
Sports Complex and International Cricket Stadium in 44-Acre
Holistic requirement of the City for a Service Apartment
Site Location
Omaxe Global business Park Holiday Inn Site Location In New Chandigarh Mullanpur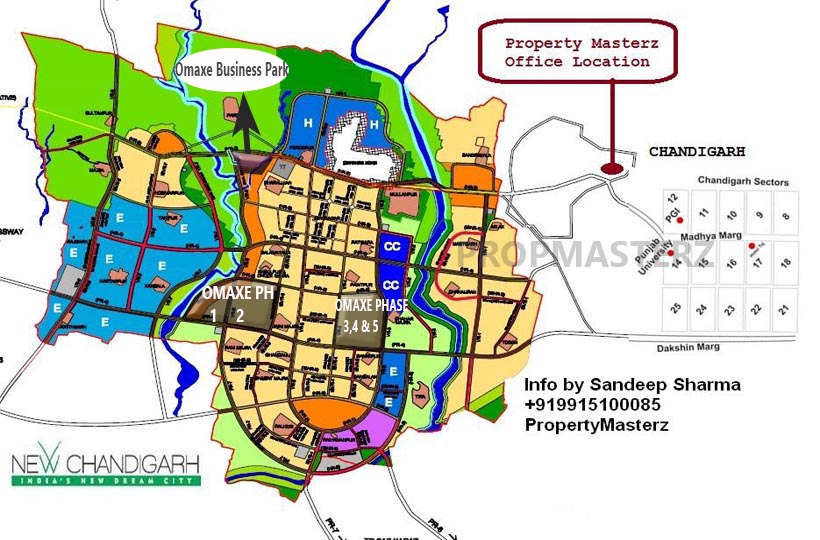 omaxe business park new chandigarh
E-Brochure