Overview
GMADA ECO CITY 1 PLOTS IN CHANDIGARH, MULLANPUR
Synonymous to its name, GMADA Eco city 1 is the upcoming modern townships in Mullanpur, new Chandigarh.
GMADA ECO CITY Plots in Chandigarh , Mullanpur Ecocity phase 1 is being developed in 400 acres of land, where the land has been acquired under pooling, thus making the farmers a stakeholder. The development work is being carried on by M/s Larsen and Toubro ltd. The total cost of gmada ecocity one Chandigarh project is 151 crores. This amount would be spent keeping all necessities and luxuries in mind, health, sanitation, electricity and greenery.
A 200 feet wide road is being constructed from new Chandigarh to 'T' Junction of Kurali road. This road will be a major link between UT , Punjab and Himachal.
Special attention to the provision of water supply has been made. This was keeping in mind the huge demand in future.
Independent sewage system has also been installed for new Chandigarh. There would also be a treatment plant, which shall be used to water the plants.
Rain water harvesting system shall also be installed. A steady power supply ahs been assured.
The best part about new Chandigarh is, that it is linked by metro.
Gmada Eco city 1 plots  is just 5-6 km from PGI/Punjab univ on 200 ft madhya marg extension and just diagonally opposite to 150-250 acre Medecity (Tata cancer research hospital,PGI extension Medecity,alchemist,Fortis more application are still awaited
Planned to the south of MDR-B, GMADA Eco City Phase-1 plots , commercial is being developed on an area of 400 acres, which has been acquired under 100% Land Pooling, thereby making the farmers as the stakeholders and none of the farmers have been displace.
With practically no limitations or limits to its expansions and being virtually extension of Chandigarh, the
state capital, mohali has naturally come to be the hub of modern urban growth of Punjab. With clean
air, canal water and ample sun shine mohali region is endowed with all the nature gifts for health living.
It is not just chance that this region witnessed one of the earliest civilization on earth 5000 years back
and today has one the most admired example urban planning in the country with easy grid layout of
roads, well planned markets and open areas has a cricket stadium that is known world over.
With international school of business, Indian institute of technology (IIT) at 35 kilometers, Indian
institute of sciences and research, Biotech Park, National institute of Bio-Technology, Quark, Dell, Semi,
Conductor complex to name a few and the international airport, Mohali region is only regaining the
glory due to it.
With a current population of 2.5 Lac and a rapid pace of in-Migration comprising of professionals and
those seeking good education for children and Punjabi diaspora cherishing a neck back home, New
Chandigarh is becoming the shining star of the region.
Eco-City in mullanpur , New Chandigarh is being developed by Gmada North of Chandigarh in greater Mohali region in New Chandigarh
(Mulllanpur). New Chandigarh is master planned as a spread out, low population density settlement for
lac person eventually, with only 100 person an acre.
Set in the foot hills of shivalik hills at 6 kilometer from Madhya Marg Chandigarh, Eco City promises to
be spacious, Creativity, Prosperity of its inhabitants and calm abode promoting health.
Please contact further: +91-9915100085, 9988187776
or Email [email protected]

Layout Plans
ECOCITY PLOTS MAPS OF NEW CHANDIGARH
Specifications
Image contain size and category wise allotment of Gmada Ecocity Plots in New Chandigarh Mullanpur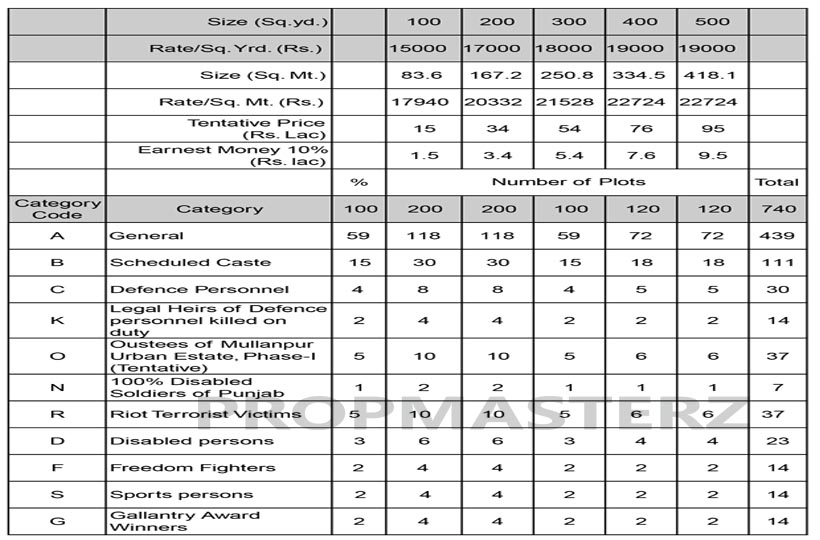 As the image shows allotment price of of ecocity plots in mullanpur new Chandigarh and now they are available in resale only in market with different premium as per size, location of plots it is allotted, to know premium part please call or send us query by filling our forum.

Please contact further: +91-9915100085, 9988187776
or Email [email protected]

Features
Ecocity tender is given to Larsen and Tubro (L&T) name speaks it self is ready for possession
Ecocity will be the upcoming Ultra modern Township at Mullanpur(Urban estate), New Chandigarh.
Synonymous at the name, it is surrounded by lush green areas
Eco City (New Chandigarh) is a new city adjoining to Chandigarh. It is situated the Shivalik Foot Hills and is situated on the north zone of Chandigarh.
GMADA Eco City is a well-planned township with state of the art infrastructure development.
Eco City Phase-1 is located on a 200 feet wide road just 5-6 Km from Chandigarh sector-10,11,15,PGI,Punjab university
Eco City will have residential area with green belts, and commercial establishments in the vicinity for providing shopping and employments opportunities to the residents.
Area has a provision for Metro Rail transport, a proposed Medicity, and will have only non-polluting industrial activities.
As ecocity is urban estate developed by L&T have metaled roads, piped water supply, storm water drainage, an extensive underground sewerage system and all the fiber cable(electricity wires) are underground no hi extension wire will be there.
Please contact further: +91-9915100085, 9988187776
or Email [email protected]

Sizes &Price
NEW CHANDIGARH GOVT ECOCITY  1 ALLOTMENT AND PREMIUM DETAILS
| SIZE | ALLOTMENT/SQ YARD | TENTATIVE PREMIUM/SQ YARD | TENTATIVE RATE/SQ YARD |
| --- | --- | --- | --- |
| 100 Gaj | 15000 | 14000-20000 | 29000-35000 |
| 200 Gaj | 17000 | 7000-13000 | 24000-30000 |
| 300 Gaj | 18000 | 3000-9000 | 21000-27000 |
| 400 Gaj | 19000 | 2000-7000 | 21000-26000 |
| 500 Gaj | 19000 | 2000-7000 | 21000-26000 |
&
NOTE-As Ecocity one plots in new chandigarh mullanpur is available in resale so prices is just estimated cost rest it depend upon that particular location,size,time and allotment
Please contact further: +91-9915100085, 9988187776
or Email [email protected]

Site Layout
IMAGE CONTAIN EXACT LOCATION OF NEW CHANDIGARH GMADA ECOCITY-1 FROM CHANDIGARH
IMAGE CONTAIN EXACT LOCATION OF NEW CHANDIGARH GMADA ECOCITY-1 AND COLUR WISE LAND USE
Independent House

Soon as an private builder we are launching our beautifully designed independent houses in new Chandigarh mullanpur ecocity 1 ,with plot size of 100 to 500 sq yard .If you are very much interested in independent kothies in ecocity new Chandigarh please wait for some time or tell us your plan or budget for house. These duplex house in ecocity new chandigarh will be more than high quality breathe taking away house can be designed according to your quality and budget.
E-Brochure