Overview
ABOUT ECOCITY 2 PLOTS RESIDENTIAL LAND IN CHANDIGARH
Due to high demand, the work for Chandigarh ,mullanpur Ecocity phase 2 has also started. Around 450 acres of additional land has been acquired for Eco City Phase 2.
As the name suggests, Ecocity has all the provisions to call it a place close to nature. GMADA Ecocity 2 is the upcoming modern townships in Mullanpur, new Chandigarh.
Ecocity phase 2 residential land is being developed in 450 acres . The development work is being carried on by M/s Larsen & Toubro ltd. The development is being done keeping all necessities and luxuries in mind, health, sanitation, electricity and greenery.
The project is ona 200 feet wide road. A 200 feet wide road is being constructed from new Chandigarh to 'T' Junction of Kurali road. This road will be a major link between UT, Punjab and Himachal. You can rightly call it a life line.
Special provision of water supply has been made since there should be no shortage of water. This provision was made keeping in mind the huge demand in future for all necessities.
Independent sewage system has also been installed for new Chandigarh. There would also be a treatment plant, which shall be used to water the plants. This will save water and also help to maintain the green area.
Rain-water harvesting system shall also be installed. A steady power supply has been assured.
The new Chandigarh is linked by metro. It is just a few minutes drive from Chandigarh. The distance from PGI is just 7 kilometers. This would be the most demanded area in Chandigarh in the future.
Contract for ecocity 2 in mullanpur given to Deepak builders and development work started on the site. Prices for ecocity 2 in new Chandigarh started increasing day by day, this the right time to grab the property.
There are different residential plots township like like Omaxe plots New Chandigarh , Ecocity 1, Dlf plots New Chandigarh etc . All the townships are doing really well and possession and construction works are at full swing
Layout Plans
IMAGE CONTAIN LAYOUT PLANS OF GMADA ECOCITY 2 PLOTS IN NEW CHANDIGARH(MULLANPUR)
IMAGE CONTAIN SITE LOCATION OF GMADA ECOCITY 2 PLOTS IN NEW CHANDIGARH(MULLANPUR)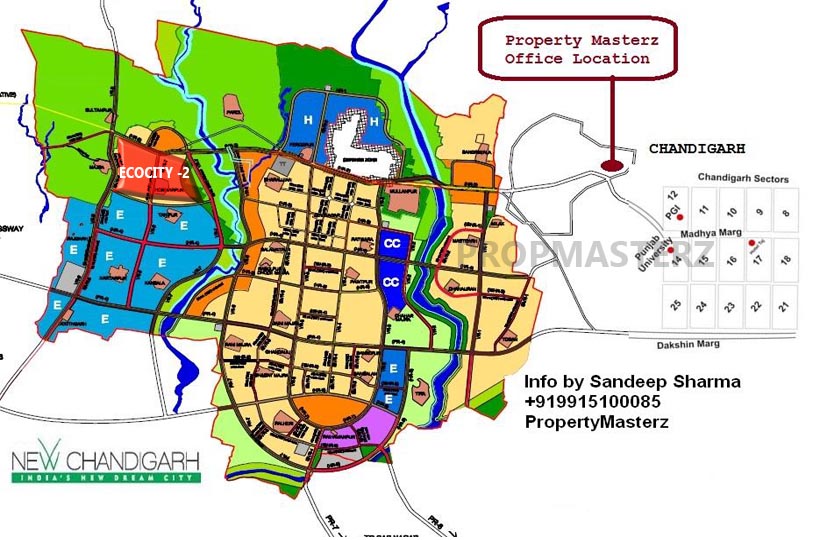 Specifications
GMADA ECOCITY 2 ALLOTMENT PRICE AND SIZE WISE NO OF PLOT DETAILS


NOTE-As these are allotted price of gmada Eco city 2 plots by govt but they are available in market below this price ,as it's again depend upon the size, location of plot you choose to buy ,due to or reason of land pooling plot of farmers is available which is given to them by Gmada in lieu of their land bank acquired ..
Features
Gmada ecocity 2 two located on the gateway to Himachal(Baddi,Una,Dharamshala,Hamirpur etc) and Punjab (Kurali,Morinda,Sirhind,Ludhiana,Amritsar,muktsar etc) major areas.
Eco City Phase -I World Class Infrastructure developed by "L&T Ltd"
Commercial SCO's and bay shops on 6 Lane Highway.
Prime Location Approx. 8 Kms. from PGI and Punjab university Campus.
Density Area (150 Persons inhabiting with Per Acre) to ensure Quality living life style.
Situated in the Foot Hills of the Shivalik Range with lush green unrestricted view ..
Quite near to Industrial Town of "BADDI".
Gmada ecocity 2 Excellent Connectivity with Chandigarh on 6 Lane 200 Ft. Road with Provision for METRO's.
Mohali Cricket Stadium to be Shifted in New-Chandigarh and is to be of International Standard for which tender being allotted and work has been started.
Tata Cancer Hospital -The Foundation Stone of Which has being laid by The Honorable Prime Minister, coming in vicinity.max hospital, pgi extension, Grewal hospital etc already located rest applications are invited and process is still ongoing…..
Ecocity 2 in New Chandigarh mullanpur has first time in the foot hills of shivalik coming up with plot measuring size 1000 and 2000 sqyd with gated community exclusive zone
Feature like club house, gymnasium,yoga Centre and 24X7 cctv surveillance
Only 7 Star Resort in the whole Region which is 70% completed , coming up next to this Township.
"Siswan lake" in the near vicinity..
Provision of world class healthy city MEDECITY in the near vicinity which will have provision for world class Hospitals Medical Research and Education. The Said "Medi-City" to later to "Health Tourism"..
Education City just Beneath this Township in 1700 acres..
Site Location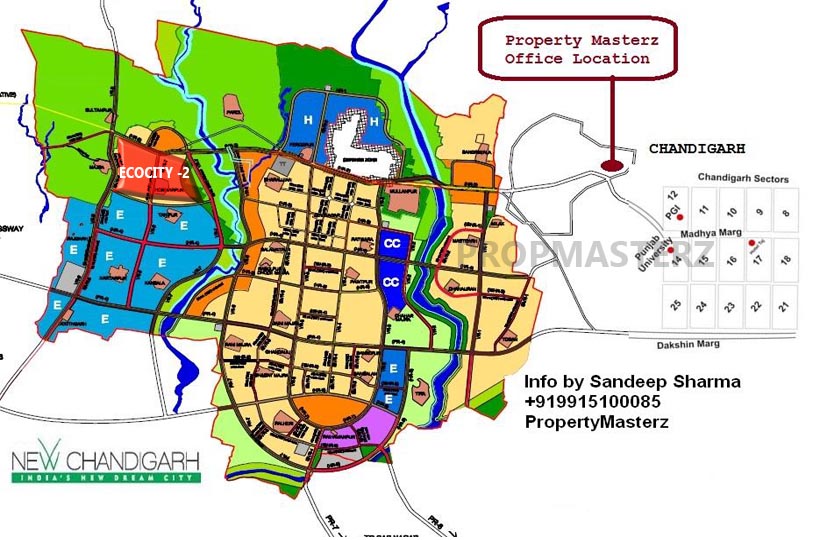 E-Brochure