Overview
OMAXE THE RESORT 2BHK, 3BHK FLATS APARTMENTS IN MULLANPUR NEW CHANDIGARH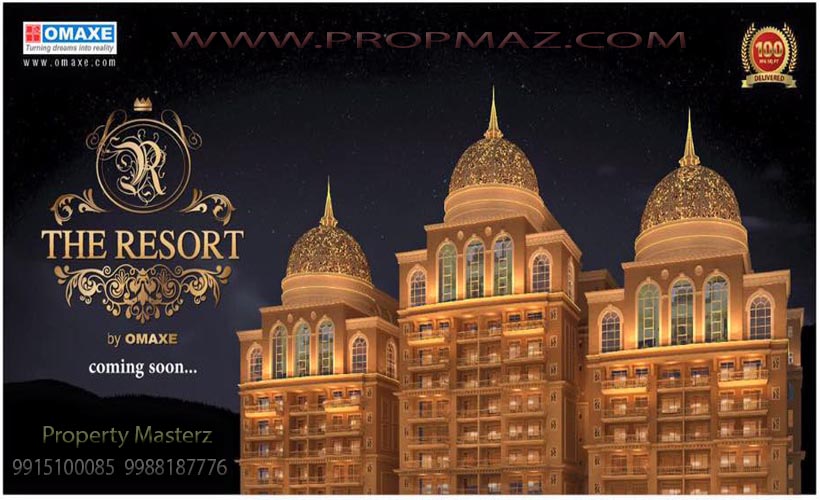 Omaxe The Resort 2BHK, 3BHK Flats IN NEW CHANDIGARH MULLANPUR Info by Property Masterz
Omaxe The Resort 2bhk, 3bhk FLATS in Mullanpur, New Chandigarh launched .
Omaxe in Chandigarh extension , Mullanpur launched 2 bhk, 3bhk Flats in New chandigarh mullanpur by the name of OMAXE THE RESORT with affordable pricing and good amenities .
Sizes of Omaxe The Resort will starts from 1000 sq ft to 1600 sq ft with accommodation like 2bhk, 2+1 bhk, 3 bhk .
After the long time need of market in new Chandigarh Omaxe 2BHK AND 3BHK the Resort Flats Launched with a booking amount of just 1 lac rest unit will be allotted on draw system bases . After wait the product got launched on 29/ November/2017. Now Omaxe The Resort Apartments got govt Approval as per RERA guidelines ( Real estate regulatory act) , the safest and best size bracket for investors/ end users . Omaxe The resort 2BHK AND 3 BHK flats in Mullanpur New Chandigarh comes with very reachable product with easy payment plans. Company is also running the scheme of subvention plan in Omaxe the resort apartments in which client just have toy 10% now and no payment/ Emi till possession. Location of omaxe the resort is locatated where already more than 2000 families are already living . It is RERA registered project in which the construction is already started . Possession of Omaxe the Resort apartments will be by 2021 and proper RERA agreement will be done between the customer and Oamxe in rejistrar office , in case of delay proper penalty clause is there. Only The Resort Omaxe 2bhk flats in new Chandigarh , Mullanpur has very good demand in the vicinity due to its already delivered products and The Resort itself have all the necessary amenities . Construction of The Resort Omaxe 2 and 3 bhk Flats in new Chandigarh Mullanpur is very good pace and those tower which are launched there below the ground level work is done and structure reached to 4th t 6th floor in all the major towers by april 2019 . As per the construction and location of these flats there will will be great appreciation at the time of possession , rather you want to sell omaxe the resort flats and even the rent out scope of Omaxe the resort flats in new chandigarh will be very good. The location of these flats falls on very well coonectivity from three side entry exits points of sector divinding roads , which gives great edge to the product .
[table id=1 /]
What is Advantage of Booking The Resort Apartments-flats in Mullanpur, New chandigarh with Property Masterz ?
Get best prices than company as we have authorised dealers/associate which gives you Deal below company prices itself.
Get long term services ,like payments update, resale trading, follow up, many other hidden factors are there also.
Give you services at your door step
Time to time comparison related to Real Estate market
To get firstly updated on prices and location advantages,also for early bird offers and get your prefrable location unit just What's app us on Please contact further: +91-9915100085, 9988187776 or Email propertymasterz7@gmail.com
FLOOR PLANS